IOM Return Intention Assessment
Key Findings
●  Access to livelihoods remains a keyissue for the surveyed population.This is reflected both in theassistance needed to leave   thecamps, and in determiningwhether IDPs will return home ormigrate elsewhere.
●  Access to capital is the mostcommon barrier to IDPs restartingtheir livelihoods.
●  Reconstruction assistance is themost cited humanitarian need, aswell as cost of transport to theirdesired place of settlement
Background
Tropical Cyclone Idai made landfall in Zimbabwe on 15 March 2019, creating extreme weather with heavy rains. The cyclone caused substantial flooding, leaving 270,000 people in need of humanitarian assistance and more than 40,000 newly internally displaced persons (IDPs). As these men, women and children continue to be in critical need, IOM has rolled out its Displacement Tracking Matrix (DTM). The DTM assessments are critical to the population, as they provide an outlook of the needs of host communities and the IDPs in relation to planning multi-sectoral support, including emergency shelter and permanent relocation for those who are unable to return to their places of origin.
Return Intention Survey
Four displacement sites in Chimanimani district were part of the Return Intention Survey. All 198 households were interviewed, consisting of 909 individuals. This study is an analysis of the data gathered from the assessment, covering household profiles, livelihood situations, intentions of return and an overview of the assistance needed to return.
Housing and Shelter
Of the people living in the camps, all houses were damaged in such a way they were forced to relocate to the camps. Of the 198 households, 181 houses were completely destroyed by cyclone Idai. Ten houses were severely damaged and seven partially damaged.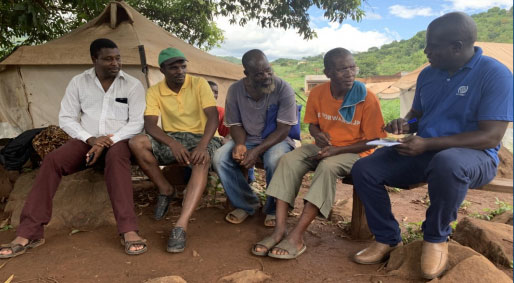 Livelihoods
Before the cyclone, informal trading and farming were the most common type of livelihoods. Almost all households reported that their livelihoods were affected due to the cyclone and their relocation. Eighty-five households have been unable to resume their economic activities with most citing a lack of capital.
Return Intentions
Of the 198 households that were interviewed, 168 have no intention to return to the place of origin in the near future. Onward migration is being driven by prospects of better livelihood opportunities, trauma from the disaster and the availability of humanitarian assistance.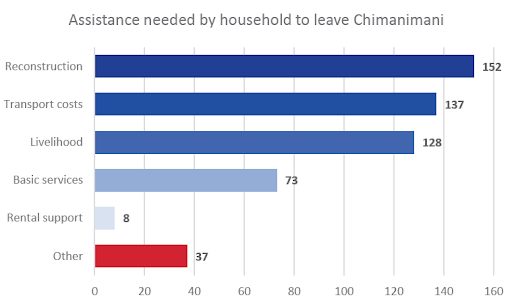 Return Assistance
For households residing in the camps, either with the intention of returning to the place they used to call home or migrating onwards, transport is a major hurdle for which they require assistance. Many households also report the need for support in reconstruction and restoring their livelihoods.
Results
This DTM assessment by IOM supports the Zimbabwe Idai Recovery Project by giving an indication of the assistance needed by the households in these four camps. With this information, the ZIRP implementing partners can continue providing support while anticipating the needs amongst the most vulnerable of the communities.